Lake Powell Fishing
Hey everyone! I just got back from my trip to Lake Powell and boy oh boy did we have fun. I went with a couple of family members and friends.  We try to go every year, and it is always a blast.  This year was no exception.  When it came to fishing at Lake Powell (my favorite part) it turned out to be the best year yet.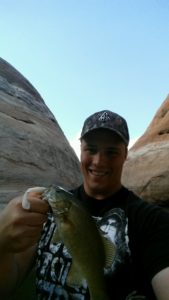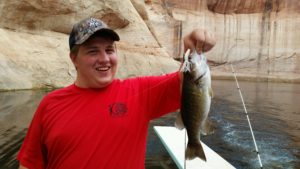 I want to start off by saying that this was a family trip, and even though I spent most of the vacation with a line in the water, fishing is not the only reason for the trip.  We also spend time enjoying the water sports and sight-seeing. There is a lot of fun to be had at Lake Powell, but there is still that little voice in my head telling me "I bet there is a bass in that cove."  All the other stuff is fun, but nothing beats fishing. This year we caught just about every fish species in Lake Powell.  From small and large mouth bass, catfish, carp, striper (striped bass), to blue gill.  We even managed to hook up with a walleye while we were down there fishing  at Lake Powell.
Fishing at Lake Powell is just a blast, most of these fish would hit anything that was white or silver which imitated natural movement in the water.  For the most part, we mainly used the cream white, twin tailed hula grub (Yamamoto).  We also had a lot of luck with the clear and twin tail grub with glitter, but the Hula grub was the star of the show. The only down side to these Yamamoto baits is that the grub is only good for about 4 fish. These fish (especially the small mouth) hit super hard and fast.  They really tear up the bait in a hurry.  We hooked all the bass species, and the one walleye using these hula grubs.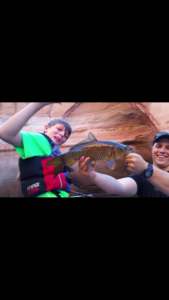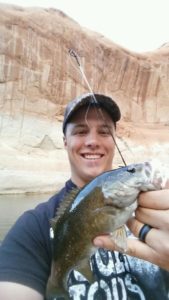 One of my favorite parts of fishing at Lake Powell is you can throw your left over hot dog off the house with a line and hook on it and pull up a nice size catfish.  My wife's little cousins are between the ages of 10 and 15 and they love to fish with me.  They especially love the cat-fishing at night.  They had a line in the water the whole time and they would get so excited when anything would hit the line.This is a great way to get young anglers started in the sport.  During the day, it was a blast to watch the kids catch big carp with pieces of bread.  The carp always put up a good fight and never seem to get tired of being caught.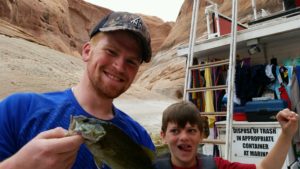 I hope you all enjoy this little article about my recent fishing trip and I will be getting a technique article up soon.  Comment on what techniques you would like to see for whatever fish species you are interested in.  Most importantly, make sure to take the youngsters out to your local lakes and streams to catch some fish before the summer is over.